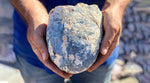 I hope you are all doing as well as possible during these challenging and unprecedented times.  At this moment, our primary concern is for the health and safety of our staff, our customers, our suppliers, and our larger community.
To do all we can to stop the spread of this virus, we have closed our office, and all employees are working from home.  Fortunately, this allows us a minimum of disruption of service to our customers and partners.  As always, our sales, customer service, and production teams are available by email and phone.  Our 3rd party warehouse continues to function, following appropriate safety practices.  Please let us know if there is anything at all that we can do to help.
In these challenging moments, a true community shines.  We feel so fortunate to be a part of a group of people who truly care about helping one another, and creating great design.  Thank you for being a part of it. 
We wish you, and your families, safety and health, and look forward to a time in the future when we'll meet again face-to-face. 
All the best,
Anna xoxo
Anna Rabinowicz
Founder/CEO