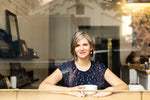 About Anna, founder and CEO of ANNA New York
Anna Rabinowicz founded the company in 2002 in her grandmother's basement in Queens, New York. It was a family business and a matriarchy from the very beginning. Her mother and grandmother were in charge of putting the small rubber feet on the bottoms of their agate gemstone coasters.  After Anna's grandmother passed away, her young daughter, Talia, became involved in the company, helping with design development.
Today,
ANNA

 
continues to be a female-owned and operated company. Her elegant pieces can often be found in publications like Harper's Bazaar, Vanity Fair, and Vogue, and have been featured at the MoMA Design Store.
Anna is trained as a product designer, an unusual mix between an artist and an engineer. She holds Master's degrees in engineering and art from Stanford University, as well as an undergraduate degree in literature. Her focus is biologically-inspired design, which became her research area later as a Professor of Design.
After graduating, she continued pursuing her interest in biomorphic design by designing prosthetic knees and devices for cardiac surgery. She also became an Associate Professor of Product Design at Parsons School of Design and a Lecturer in Stanford University's Design Program, training future leaders in the field. Her tenacity and interest in naturally-inspired design fueled the founding of
ANNA
, and typifies the way that they operate as a company to this day. 
Read on to learn more about Anna's personal founder journey and how she rocked a red satin cape to her engineering exams.
Anna adding 24K gold paint to a set of candle holders. The following images are all from a behind-the-scenes look into Anna's thoughtful design and production process.
Tell us more about ANNA — what inspired you, your grandmother, and mother to get started and what was your vision when you founded the company?
The inspiration behind starting ANNA comes from a variety of places in my past. As a child, while I was living in suburban Detroit, my father and I would go to rock shows (no, not the heavy metal kind) on the weekends. They were these huge mineral conventions where I would search for stones that I liked—selenite, amethyst, and agate were some of my childhood favorites. Eventually, I collected a beautiful treasure trove of stones.

Later in life, I rediscovered agate while vacationing in Yosemite. An elegant agate stone caught my eye in the gift shop, and there was something about it which felt very familiar. When I went back home, I dug up my old collection. I laid it all out on my desk, admiring the natural beauty and connecting with my past. Then one day I thought, these would make great coasters. Agate rock is formed inside ancient lava streams, which gives it a feeling of deep history and meaning. The fact that I had such a visceral childhood memory associated with it made it all the more impactful.
In the early days, my mother and grandmother would sit at the kitchen table in my grandmother's home, putting rubber feet on the bottom of the agate pieces. I'd be in the basement matching the pieces with one another and boxing them up. We were very scrappy. When
MoMA
needed a product ASAP, my mom and I would jump in the car so that we could hand-deliver our pieces to them.
The vision I had for our products was that they would help reconnect consumers to nature, especially amidst our ever-modernizing world. I wanted to design inspirational products that would enhance people's lives, an antidote to the sameness of our identical laptops and iPhones. Our personal connection with the product and our customers created our foundation. Though we've shifted to DTC now and have customers all around the world, we will never forget our humble beginnings.
Has your vision changed over the last 18 years and how have you adapted to evolving trends?
As a professor and researcher, I have always been inspired by biomorphic design, drawing inspiration from nature to inspire functional design. I was writing these long, tedious academic papers about how biology can inspire design and presenting at various engineering conferences.Through that, I began to realize that these natural materials can transcend the theoretical and become more practical. With
ANNA
, the vision is to utilize natural elements and create inspired products that, in turn, inspire the people who use them.
As a designer, I want to innovate and design products that fit into people's changing lives and needs. When
ANNA

 
began, we created the first set of agate coasters on the market. The thing about creating trends is that there will always be those that follow, so we are constantly innovating. We release new designs on the fashion calendar (twice a year), and every time it's a brand new collection. With every release, the focus changes, but the core of
ANNA

 
is still steadfast. It's all about the evolving natural elements and combining them with other quality materials (like 24K gold, crystal, or glass) to create beautiful, functional pieces.
Materiality is a great inspiration, but the true inspiration is how these pieces will transform and enhance people's lives, especially for women. As a female founder, I want our products to help women feel confident, fantastic, and empowered. A meaningful design can help you to find your strength and confidence. Take a cake stand, for instance, that shows off your homemade cookies or the cookies you just purchased, socially-distant, at the grocery store. Both cookies tell the story of an empowered woman, and the elegant cake stand underscores that fact.
Speaking of trends, COVID has actually accelerated our launch, transformations, and acceptance of imperfection. With everyone spending more time at home, we want to do our part by sharing pieces that bring happiness and inspiration. Let's be honest—with everyone at home, there's bound to be a little messiness and disorganization. At ANNA, we're asking ourselves, how can we enhance that honesty and authenticity? I'm interested in helping our customers create beautiful corners, in a way that shows them joy, hope, and that progress is being made—whatever that means to them.
What were you doing prior to founding ANNA?

In the early days of ANNA, I was still a full-time professor at Parsons School of Design. And before that, I had designed medical devices like prosthetic knees as well as consumer electronics, like cell phones, and car interiors. The common thread in all of my work has been biomorphism. I have a passion for biology, nature, and transforming people's lives through the design process.
As a professor, I loved working with students through the design process. First, I needed to understand their wants and needs, then it was helping them understand the wants and needs of the consumer. Process and design thinking are the threads that run through everything – whether developing strategy to run the company, creating a design vision, or helping students.

That being said, I love teaching and being in the classroom, it's intoxicating. There's an incomparable energy and excitement, and I am so looking forward to when I eventually have enough time to get back to the classroom. In the meantime, I love teaching periodically at my alma mater, Stanford.
What has been your experience as being the only minority in the room?

I've always been attracted to situations where there haven't been many women present, and I love the challenge. If I see a situation where there's not a ton of saturation, I see an opportunity to shine.
When I went back to Stanford for graduate design school, I had to take undergraduate engineering courses in order to complete my master's degree. Therefore, not only was I often one of the only women in the class, but I was also one of the older students. To empower myself, I'd wear my red satin cape to exams. I'd walk across campus, telling myself, "You're going to crush calculus".
In the machine shop, I was, again, often the only woman. I reveled in the fact that there was a little bit of doubt, and I was eager to show all the guys in the class that I could beautifully machine a piece, while doing it in style. I had a special pair of blue overalls that I'd wear every time I went into the shop to give me confidence while I handled the complicated machinery. The power of inspirational pieces and looking your best goes a long way.
In consulting, fresh out of school, I was often in meetings with rooms full of men who were older than me. I was always excited for the challenge. When there's doubt, there's a great opportunity to show what we can do as women. My daughter is now 11, and I want to be that role model who transcends gender boundaries. My own mother was a ground-breaker, as a female news producer in Detroit. With each generation, it gets a little easier. I'm hoping that with my daughter's generation, it'll be as close to seamless as possible. I can show her the boundaries that I've been able to knock down. It's the same thing when I'm teaching my students, especially the women—I want to show that there is a path, there is a way. Perhaps not obvious at first glance, but if you commit to doing the things that you are passionate about, it will eventually reveal itself.